PCB Assembly and Box Build Services
Reliance Electronics offers a variety of turnkey and partial turnkey services for PCB assemblies. Our production facility is a high-efficiency shop for circuit board assembly services from board fabrication to box build. Reliance's manufacturing facility is a one-stop-shop for PCB assembly. We are capable of assembling double-sided mixed technology products.
We provide Quick Build Prototype service in less than total 3 days for a part where components are easily available in the market. This will include PCB fabrication, parts procurement, SMT stencil (for SMT jobs) and PCB assembly. We will work with your consigned parts or we will purchase all the parts. If you prefer we will work with combination of both. Our SMT line will take small cut strips as small as 10 parts. Of course for volume production, we do require parts on a continuous strip or reels.
For volume production, we participate on all Just in Time delivery programs or Kan Ban blanket orders. We will manage your consigned parts with our MRP system. If we purchase the parts, you will get the benefit of our high volume purchasing discount we receive form many major distributors. We source our parts from all over the world. For safety reason, we prefer to purchase parts from reliable authorized distributors in USA only but in real need, we bring parts from Far East and Europe. If any part is purchased from overseas, we do inform you for just one simple reason that we cannot guarantee its origin.
To meet the requirements of RoHS directive, we have a complete set of equipment for Lead Free assembly. All RoHS compliant work is done in a completely segregated area. Our work area is fully ESD protected. Our employees are trained for handling all ESD sensitive parts to prevent damage due to ESD. We offer No Clean or Aqueous flux soldering process. However No Clean flux is our default flux.
We provide complete Box Build services such as electro mechanical assemblies, integration of multiple assembled boards, , cable and wire harnesses and circuit breakers, fuse blocks and all incidental parts in a sheet metal or plastic enclosure. We perform full functional testing of the completed box. We also perform temperature and humidity cycling and final burn-in testing of the completed assembly.
Let us
QUOTE
your current requirement so you can compare the prices paid to your current vendor.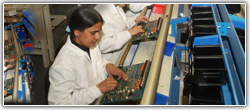 Our PCB Assembly Capabilities
Surface Mount & Mixed Technology
Two MyData High speed SMT lines
X-Ray & AOI inspection
Discrete 0201, Micro BGA placement
BGA removal & replacement
Full Functional Testing
IC (Device) programming
Ultra fine pitch devices (to 11 mil)
Water soluble and no-clean chemistries
Conformal coating
Potting Services
Cable & Wire Harness assembly
Full system test
RoHS as well Leaded assembly.
Burn-in & Temperature & Humidity Cycling
Pin Insertion & Press Fit Connectors
Component Rework Capability
Higher level assembly - box build and configuration of finished product
Part Procurement: Full turnkey, Full Consignment or partial consignment
IPC-A-610 Class II and III Standards
ESD Compliant to ANSI/ESD S20.20-2007