PCB Design and Fabrication
The Printed Circuit Boards serve as "The Chassis of Electronics" and is the last thing ordered and first thing needed. Quick access to quality PC Boards can serve as your competitive weapon in today's race to market with new product.
We manufacture Rigid, Flexible and Ridgiflex boards in USA as well as in China. We will have them manufactured in China only with your permission. All the boards are sold FOB Totowa, USA. The quality will be fully guaranteed by us. In case of any unusual circumstances when we cannot deliver your boards in time from overseas, they will be manufactured here in USA at no additional cost to you. No other PCB broker can give you this guarantee and peace of mind. All our boards are UL certified and made as per IPC-A-600 class II and III.
Let us quote your requirements from Prototype PC Boards to mid & high volume production runs. We will treat your small orders with the same urgency and importance as your volume orders. If price, accuracy, and respect is what you look for in a supplier, let us
QUOTE
your requirements.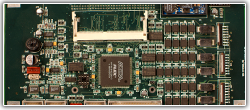 PCB Design and Fabrication
PCB routing, upto 14 layers
RF PCB Design
24 hr. prototypes to large production runs
Layer Count: 1-40 Layers
All kinds of substrates, FR-4, FR406, FR408, ISOLA 370HR, CEM-1/2, Teflon, Duroid, Polyimide, Rogers, Arlon, Nelco-13, IS410, Hybrid Capable, ITEQ180, High Copper Weight
Micro vias High-Density circuits and fine pitch SMT work
Density – 3/3, BGA, .004" pitch, .006" finished holes, microvia .004", aspect ratio 15:1"
In house CAD/CAM capability with quarter mil resolution laser photo plotter for fine-line work
Completely automated plating lines to give you uniform plating
All work strictly SMOBC Process with LPI Solder Mask
Surface Finishes: Leaded Solder HASL OR RoHs Compliant Finishes such as Lead Free HASL, ENIG, Tin, Silver and OSP
Net list or Auto learn Bare board Electrical Testing
Scored or Routed Panels with jump score & Complex machining capabilities
Finished Cu Weight: Outer Layers, up to 6 oz / Inner Layers – up to 4 oz, subject to Line/Space
All inner layers are inspected by AOI machine
All multilayer boards are 100% Bare Board Electrical Tested
Vacuum Lamination to give you uniformly laminated inner layers
For OLD taped artwork, Gerber File conversion service
Participant in customer's JIT and KANBAN programs
Statistical Process Control to assure all processes is working within set Quality Parameters
Bar coded traveler system and real time CIM system to track all the jobs. You get answers to your inquiry instantaneously
Boards are made in USA and also in China