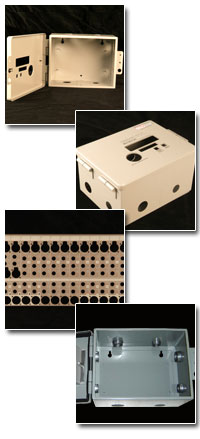 Sheet Metal Fabrication and Injection Molding
The majority of the assembled PC boards require some kind of enclosures that house them for safety as well as to provide interconnects with other boards, sensors, cable assemblies, power supplies, fuse blocks etc. Traditionally two types of housings are used,
Sheet Metal Enclosures
or
Plastic Injection Molded Enclosures.
Reliance offers both types of Enclosures made to your specifications with custom color matching and precision silk screening.
If you do not have any artwork and need assistance we will design the parts for you to meet your requirements. We use industry standard Solid Works program to design the enclosures.
Reliance also offers Sheet Metal Fabrication services for other sheet metal products such as support brackets, rails, mounting plates, Base plates, Chassis, Clamps, Clips, Covers, Fixtures, Frames, Heat Sinks, Panels, Card Cages etc.
For Sheet Metal Products we offer various materials such as Steel, Stainless Steel, Aluminum, Spring Steel, titanium, inconel, Copper, & Brass. For final finish we offer Powder Coating, Anodizing or Paint with color matching and blending to any specification.
Reliance also makes all types of supporting plastic items by injection molding. Plastic molded parts are made from ABS or Polycarbonate material.
All Sheet Metal and Plastic Injection molding work is done at our partner companies in China.
We make samples for your review and approval. We will start the production run only after your written approval.
For volume productions, the enclosures take a much valuable space in your stock room. We offer warehousing service at no cost to you. We will ship the goods as per your releases as per your current needs. This will free up your valuable manufacturing space. We bring in most of the products in full containers which enable us to lower shipping cost significantly. By ordering in bulk you get the advantage of cheaper price and low shipping cost.
All products are sold FOB Totowa, NJ. We take care of all the logistics. You do not have to worry about customs, freights, import taxes and overseas payments.
Let us
QUOTE
your current requirement so you can compare the prices paid to your current vendor.